Feb 25 2008
Barack Obama seems to be out of gas. He initially took some momentum from Super Tuesday and a small bit from the Chesapeake primaries. But he is not getting the jolt in the polls I would have expected from 11 straight wins. In fact, if you look at the RCP national average he is in a statistical tie with Clinton nationally. For some reason RCP is keeping that bizarre Reuters-Zogby poll in with its ridiculousd +14 lead for Obama. Remove it from the mix and you get an Obama lead of 0.5% – dead even.
I have been keeping my eye on the Gallup daily tracking poll because it is a great indicator of the general mood and movement in the country. As folks can see it doesn't show anything but a running dead heat.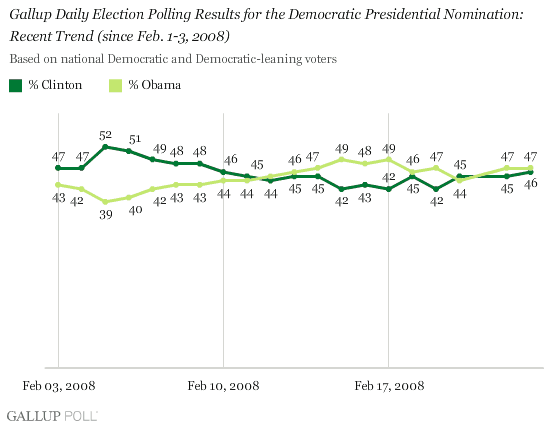 The front-runner is always a tough position to be in, but McCain has been able to move from a problematic position with his base to a 3-1 lead (65-20) over Huckabee, the conservative base's preferred choice. So it is not like Obama can't gain some traction – he just hasn't. We still have a week until the next big round of primaries in TX and OH and elsewhere. Obama needs to gain some separation before I will be convinced he can win these key states. Clinton has all the big states in her column – and I think the second look Obama is getting is not working out well for him. Time will tell.
9 Responses to "Obama Not Gaining Any Momentum"